BHS Alum's Online Store Captures The Allure of Vintage Fashion
By Trina Runner on August 03, 2014
It seems everything old is new again with the popularity of shows like Mad Men and Boardwalk Empire. But for "Mompreneur" Nicole Colton, the love of vintage never did go out of style. The 2003 graduate of BHS even found inspiration from her old college apartment. "It had avocado green appliances and shag carpet. We used to call it the 'Exotic Pear Lounge' as a joke." So when it came time for her to open her own vintage business, the name was a natural. She opened Exotic Pear Industries in 2010 and the rest, literally, is history.
"As a child, I used to go to thrift stores and flea markets with my Nanny (grandmother Nancy Colton). The experience stuck with me and I loved the idea of setting myself apart by wearing unique clothing and trinkets," said Colton. "When I pick out my inventory, I always create a fictional back story about the piece. It's fun to create a past life for them, full of glamour or mystique." She also enjoys offering styling tips that enhance the style. Sometimes it's a classic strand of pearls or a cardigan and sometimes she can offer accessories that give the outfit a more modern edge. She has a unique talent for making a look come together while preserving its past beautifully.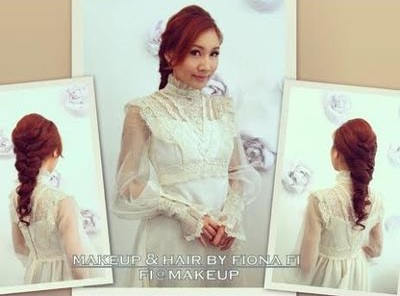 Colton graduated from Concord University with a B.A. in Business Administration and a major in Marketing. She moved to Charlotte thereafter and began her career. After being downsized, the ever-resilient Colton started making jewelry. The creative passion she had opened the door to an online marketplace called Etsy. She opened her online store,
www.exoticpearindustries.etsy.com
, soon after and has seen it double in size each year for the past four years. What started out as primarily jewelry has grown to feature vintage dresses, her personal favorite.
As a third generation entrepreneur, Colton's mind never stops thinking of ways to tweak the business to increase growth and provide for her customers. She is currently looking into the long-term possibilities of a mobile shop in a vintage trailer, a pop-up shop, or even a physical location. She is also hoping to offer more services such as personal styling consultations and sewing her own line of vintage dresses using patterns and fabrics that represent the time period.
"One of the most exciting aspects of operating an online business is the international customers," said Colton. "We have had customers from Hong Kong, France, Australia, Sweden and Luxembourg. The idea of creating something new is terrifying, exhausting and more fulfilling than almost anything, second only to being a mom."
"I think the real purpose should be to emphasize the personal style of each customer. Learning how to dress one's unique shape in a way that is flattering and makes one feel confident is a priceless investment in one's self esteem." Colton is available for local consultations and fittings and takes vintage donations of all kinds. She is also seeking models for the website. Email her at
ExoticPearIndustries@gmail.com
for additional information.