Floral Design with Cara: Fresh Twists for Mother's Day Flowers
By Cara Ewald on May 09, 2014 from Floral Design with Cara
For all the work Mom does throughout the year, she deserves to be pampered on Mother's Day. Make your Mother's Day extra special with these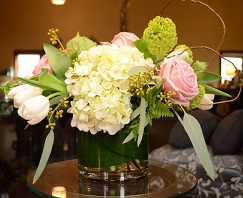 gift ideas:
Invite Mom to brunch or dinner at her favorite restaurant and have a flower arrangement delivered right to your table for all to see.
If your Mom is planning on attending worship on Mother's Day, send her a beautiful floral corsage to wear.
Give Mom something to relax with by wrapping a new book and asking your florist to place it into a fragrant flower bouquet with a note that reads, "Today is your day to relax!"
Incorporate flowers into a theme gift. If Mom is an avid gardener, send a floral design that represents gardening. If Mom is a bird watcher, how about a wildflower floral design. If your mom is a fashionista, then send a more modern design.
Even kids can make their gift of the Mother's Day extra special. Here are a few ideas:
Breakfast in bed is a treat that every Mom loves. Dads and kids can prepare a special morning for Mom by greeting her with a homemade breakfast in bed, on a tray adorned with fresh flowers.
For a very personal tribute, write Mom a note telling her why you're glad she's your mom and attach it to a flower.
Present Mom with a vase of her favorite flowers. On each stem tie a "coupon" for a chore that you promise to do.
The photos show examples of wildflower, garden, and modern arrangements. For more ideas, visit Blooms or other local florists.