Healthy Kids First: The Healthiest Pizza Bite
By Mandy Curry on September 07, 2013 from Healthy Kids First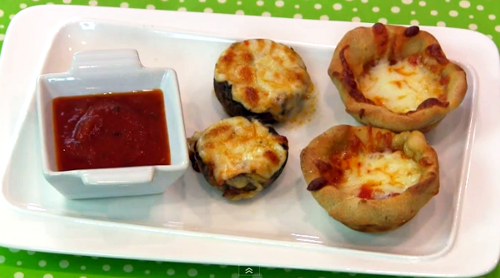 Weekends are the perfect time to experiment with new kid-friendly lunch or snack ideas and this is an absolute favorite. It's bite size, looks like a mini pizza, tastes like a mini pizza, but is packed with more nutrients and less fat than traditional pizza. If you haven't tried a mini Portobello pizza bite yet, then now is the time.
If you're serving this to kids, the mini Portobello's are the best way to ease them into mushrooms. If your kids already like mushrooms, then you can easily get a large Portobello mushroom, and turn this snack into a meal.
The ingredients are simple and you can control the fat and calorie count by simply buying more healthful ingredients. Low fat cheese is an easy find. Kroger makes an excellent marinara sauce that is lower in sugar and sodium than its counterparts. Finally, boost the quality of your mushrooms by purchasing organic and you've turned this into a most delicious, healthy snack.
Ingredients:
1 container mini Portobello mushrooms
1 cup marinara sauce
1 cup low fat mozzarella shredded cheese
¼ cup freshly grated Parmesan cheese (optional for a double cheese pizza bite)
1 tbsp Italian seasoning (or spices such as basil, oregano, garlic powder)
Check out
my full recipe demo here
(click to watch video) with cooking instructions and a tip on how best to bake these in the oven.
Enjoy!