City Officials Pleased - Not Surprised - Court Rules in Bridgeport's Favor on Fire Fee
By Jeff Toquinto on February 11, 2013
Bridgeport City Manager Kim Haws has long felt comfortable about his city's decision to charge a fire fee to non-residents that lived in the city's first due response area. But that comfort didn't guarantee that a challenge of the legality of the fire fee on non-residents would survive a test of the courts.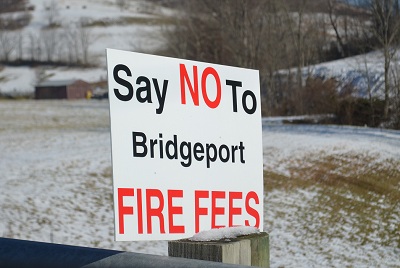 On Friday, it was learned the fee that has been in place since 2011 is legally sound, according to Harrison County Circuit Judge Thomas A. Bedell. Bedell ruled in favor of Bridgeport's motion of summary judgment.
"It's been a long time coming," Haws said. "We've always felt comfortable that we were well within the law to do what we did. This just confirms that what we're doing, making sure everyone pays their fair share, is backed by the law."
Norm Farley, the city's attorney on the case, was much like Haws. He was comfortable with the case going in Bridgeport's favor.
"I thought we had a very strong case. The city used a statute which specifically provides for having people who receive a service – water, sewer, storm water or others – that live outside the city providing that service, that they pay a fee for that service," Farley said. "There are cases in West Virginia over the years for such services out of Princeton, Charleston, Huntington and one a year or two ago involving the City of Hurricane on this type of topic that ruled in the favor of the cities. We thought there was last in the state that supported the action of (Bridgeport) City Council in imposing the fire free through ordinance."
While Bridgeport has won this round, it doesn't necessarily mean the battle is over. Farley said the plaintiff, listed as Adam Davisson, could file an appeal with the West Virginia Supreme Court.
"You always have that option, but I think it would be very difficult for it to be successfully appealed," Haws said.
Farley said his next step is to prepare an order for Bedell based on findings of fact and law related to the record in this particular case, and issues that are pertinent to the case. He said that will be done in short order.
"Judge Bedell reviews these things very carefully," said Farley.
The battle for the legality of the issue has been a hot button issue since it was imposed. In fact, signs can be seen in several areas outside the city limits – as well as some inside the municipal borders – opposing the fee. There were also calls of foul that Bridgeport was charging non-residents more than residents for the fee.
Haws said non-residents do pay a higher fee on the fire fee statements.
The fee is $150 annually for non-residents and $100 for residents, Bridgeport Finance Director Monica Musgrave confirmed.
However, he said city residents pay more for fire service through other means.
"When you consider that between the non-resident fire fee and the resident fire fee that it covers up to about 35 percent of the cost of operations on the fire department you can see that we're subsidizing the operations from the general fund. A large portion of those dollars come from the taxes paid by our residents," said Haws. "Because of that, our residents are paying more for fire service than just what they pay through their fees."
In the whole ordeal, the staff of the Bridgeport Fire Department has had to wonder what the future held for them as far as where they could respond to calls. Fire Chief Chuck Feathers said he's glad this thing may be over at best, or nearing the finish line at worst.
"I'm just glad it's behind us for now so we can protect the same people we've always protected and continue to protect for years to come," Feathers said. "I can't tell you how difficult it would be for our personnel to not be able to go where they were needed in the event of an emergency. We're pleased to continue."