Late-Morning Truck Fire Extinguished on E. Main
By Julie Perine on June 11, 2013 via Connect-Bridgeport.com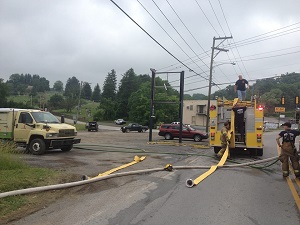 When Bridgeport Fire Department was called to an 11:16 a.m. truck fire on East Main Street, units happened to be already out.
Quick response time resulted in quick extinguishing of flames.
A Schwan's truck had been in traffic on East Main Street, near Oliverio's Ristorante, when it caught fire and subsequently pulled off the road. 
"It had some type of mechanical malfunction in the left rear wheel area and it ignited the rest of the box on the truck," said Capt. Rick Todd of Bridgeport Fire Department.
Via the hand line and the water supply in the truck, the fire was extinguished in a routine manner and with no difficulty, Todd said.
It could have been a dire situation.
 "That truck is powered by propane – two large propane tanks mounted on it – which is much more explosive," said Bridgeport Fire Chief Chuck Feathers.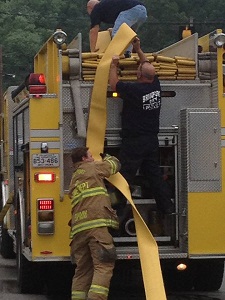 No one was injured in the fire, Todd said.
Bridgeport Police Department assisted by directing and rerouting traffic.
When called to the scene, the responding units were among those engaged in some pump operator training in the Hinkle-Deegan Lakes area, Todd said.