Floral Design with Cara: Chrysanthemums for November Babies
By Cara Ewald on November 14, 2014 from Floral Design with Cara via Connect-Bridgeport.com
The November flower is the Chrysanthemum, which is a mostly perennial plant also known as the 'mum'. Mums symbolize cheerfulness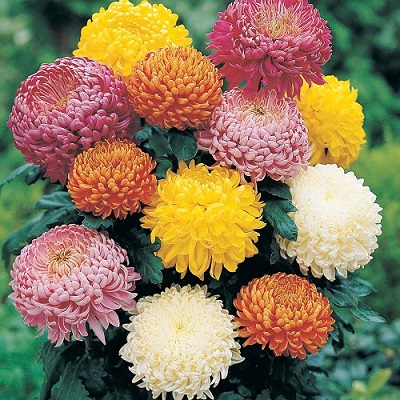 and love blooming in colors of pink, red, white, yellow, mauve and orange. They were first cultivated as a flowering herb in China during 15th century BC. In Japan, the mum was adopted as the official seal of the Emperor in 8th century AD. The Japanese Festival of Happiness is a celebration of the mum.
The mum was imported to the United States in the late 1700's when Colonel John Stevens from England introduced the Dark Purple Mum. In France, Belgium, Italy, Spain, Poland, Hungary, and Croatia the mum is symbolic of death and commonly used in funerals and placed on graves. In Asian countries mums also symbolize grief and the meaning of the white chrysanthemum represents honesty in many other countries. In Australia, the chrysanthemum is given to mothers on Mother's Day. Also a festival celebrating the flower is held annually in the Chinese city of Tongxiang. Also the ancient Chinese city of Ju-Xian means 'Chrysanthemum City.'
The Chrysanthemum is the official flower of the city of Chicago, IL, designated in 1966 by Mayor Richard J. Daley. It is also the official flower of Salinas, California. Many sororities have also adopted the mum as their official flowers, for example, a pharmacy fraternity Lambda Kappa Sigma uses the yellow mum as their official flower, and Phi Mu Alpha Sifonia's official flower is the white mum. King Tut (Tutankhamen was buried with a floral collar of chrysanthemums because its resins help to repel insects.
Fun Facts: The chrysanthemum fireworks shell gets its name because they produce a pattern which happens to resemble the flower. Ancient Chinese medicine says chrysanthemum tea offers long-term benefits related to blood and weight. Chrysanthemum tea is a medicinal use of the plant that has been around for a number of years. The tea cools the body, clears the liver, supports immunity, reduces high blood pressure, relaxes the nervous system, and slows aging.