BHS Alum Brooke Cottrill Showcases Her Talents at WVU Competition
By Trina Runner on April 06, 2014 via Connect-Bridgeport.com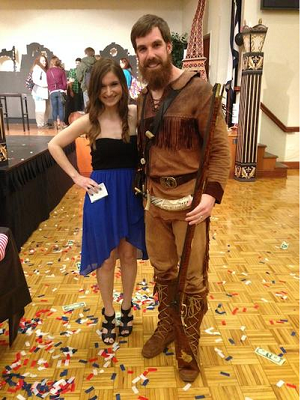 With nearly 30,000 students at West Virginia University, some people may find it hard to stand out. Brooke Cotrill is not one of those people. Cottrill, a 2013 graduate of Bridgeport High School, is currently enjoying her Freshman year at WVU and also enjoying an extra $300 she recently won in the dorm talent competition.
Cottrill is no stranger to winning. At BHS, she was active in the theatre, jazz band, and National Honor Society. She earned academic letters and lamps, was chosen for Student of the Month, and won the Harrison County Student Achievement Scholarship. But it was her musical talent that really stood out. Cottrill was named BMS Idol, won the NHS Talent Show, and was selected as Outstanding Jazz Soloist at Music In The Parks.
She grew up in a family surrounded by music. She not only plays it, she also writes her own songs. Last year, she released a CD of original songs called "No Princess" and she has performed for festivals and celebrations around the state.
Upon entering WVU, she was already admitted into the Honor's College and was named a WVU Presidential Scholar. She lives in the Honor's Dorm and is a member of the Community Service Club, The Premedical Club and the Honors Hall Council. Having excelled academically, Cottrill also wanted to showcase her talents on campus. That opportunity presented itself in the form of a talent contest sponsored by the Resident Hall Association of WVU.
For the contest, each dorm selects two residents to compete in a talent show against other dorms. Cottrill was chosen to represent one of those spots. She won the competition in her own dorm and went on to compete against the other dorm winners around campus. The event took place on March 28 in the Ballroom at the Mountainlair and included music, dance, comedy and art. Out of 21 acts, Cottrill placed second overall and walked away with a $300 prize. What started as a hobby and became a passion at Bridgeport High School is helping Cottrill mark her spot among the thousands of students at WVU.