The Locavore Next Door: Spiced Pumpkin Ale Bread Recipe
By Carrie Robinson on November 03, 2012 from The Locavore Next Door via Connect-Bridgeport.com
Spiced Pumpkin Ale Bread Recipe
This is not your typical dessert like pumpkin bread. This pumpkin bread is more on the savory side with just a *touch* of sweetness and a bit of spice reminiscent of pumpkin pie.
This bread paired deliciously with a bowl of homemade chili, and was just as yummy the next day accompanying pork chops and apples.
Which pumpkin beer you choose to make this with will definitely affect the flavor and the color of your bread. Obviously the darker the beer you use, the darker your bread will be and the deeper the flavor will be. I would suggest you look for pumpkin ale that is brewed with molasses and spices. I used Tommyknocker Brewery's Small Patch Pumpkin Harvest Ale in my bread. If you choose to try some domestic, lighter colored beer in this instead of a fall spiced brew, I cannot vouch for the results, folks. Bake with the "king" of beers at your own risk.
What you will need:
2 cups of white flour
1 cup of whole wheat flour
1 tbsp baking powder
1/4 cup brown sugar
1/2 tsp cinnamon
1/4 tsp ground ginger
1/2 tsp ground cloves
1/2 tsp salt
3/4 cup canned pumpkin
1 12 oz bottle of pumpkin ale
2 tbsp butter, melted
1 tbsp honey
Preheat your oven to 350 degrees and spray a loaf pan with cooking spray. In a large bowl, whisk together the flours, baking powder, brown sugar, the spices, and the salt. Set aside.
Put your canned pumpkin into a small bowl and then pour the bottle of pumpkin ale over it. Whisk the pumpkin and beer together until well mixed.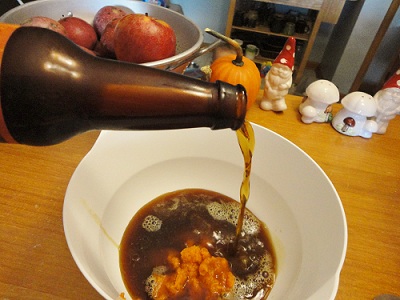 Pour the pumpkin/beer mixture into your dry ingredients and mix with a wooden spoon until just mixed. Do not over mix as this could cause your bread to turn out extra dense. Pour your bread batter into your greased loaf pan.
Now melt the butter and then whisk the honey into your melted butter. Pour over the top of the batter in the loaf pan.
Bake for 45-50 minutes.
When a toothpick inserted in the middle comes out clean, it is done.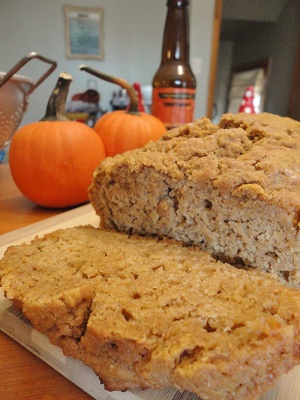 Allow the bread to cool in the pan for 10-15 minutes before turning it out onto a wire rack to cool further. This bread is amazing while it is still warm from the oven. I am not even kidding you all- I ate 3 slices of this bread with butter in a matter of 20 minutes. I am not proud of this. I am just telling you that it is just THAT good.
Wrap any leftover bread tightly in plastic wrap. It will store well this way for 3-5 days.