Floral Design with Cara: Larkspur: The Flower for Every July Baby
By Cara Ewald on July 11, 2014 from Floral Design with Cara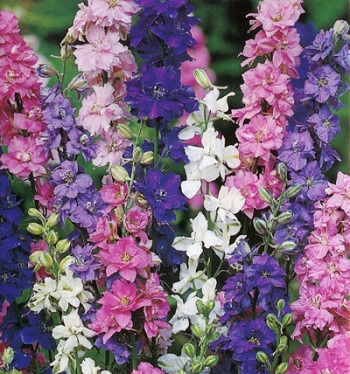 Larkspur symbolizes summer's care-free days. The lovely bloom is a highly desirable cut flower with tall spikes of colorful petals that look as perfect in a cut glass vase on the dining room table as they do sitting in a rustic basket or bucket at a casual backyard party. Often confused with the delphinium, they look similar and are both members of the buttercup family. In Shakespeare's time, Larkspur was also called lark's heel, lark's claw and knight's spur. In Greek mythology larkspur sprang up from the blood of Alex after he killed himself following a temper tantrum resulting in an act of dishonour when he did not receive Achilles' armour. Soldiers were also said to use larkspur in ancient times as a method to control body lice. Larkspur was also said to have had magical powers as it carries feminine energy. In addition to healing wounds and combating lice, larkspur was used with any spell related to the protection, care and comfort of soldiers and other figures of authority. It has also been known to be used in ceremonies honouring war dead. Documentation points to larkspur assisting in keeping away ghosts, scorpions and various other poisonous creatures (Cunningham's Encyclopedia of Magical Herbs) and if planted around a home it would keep away bad spirits. Wearing larkspur also brings these benefits.
Meaning
Larkspur were very popular gift flowers in Victorian times. In general, the flowers symbolize an open heart and can be associated with strong romantic feelings. Here are some more specific petal color meanings:
Pink larkspur flowers represent fickleness.
White blossoms signify a happy-go-lucky nature.
Purple represent first love and a sweet disposition.
Fun Facts
In Transylvania, dried larkspur was placed in stables to keep witches from casting spells on the animals.
In England, larkspur flowers were used to cure ailments and in Summer Solstice celebrations.
Native Americans and European settlers made blue dye from larkspur flowers.
The most ancient use of larkspur flowers was to drive away scorpions.
There is so much to love about the long, lazy months of summer. Giving a lovely bouquet of larkspur as a birthday present is a wonderful way to share the joy of summer with someone special.