18-Bed Bob Mays Recovery Center Opens in Harrison County
By Connect-Bridgeport Staff on May 09, 2013
United Summit Center (USC), an affiliate of United Hospital Center, has opened a new, 18-bed substance abuse facility for adults in the former United Hospital Center Family Medicine building in Clarksburg. On Wednesday, May 8, at 11:00 a.m., USC held the official ribbon cutting ceremony.
The facility has been named the Bob Mays Recovery Center, in honor of the late Bob Mays. Mr. Mays was the longtime executive director of Logan-Mingo Mental Health in southern West Virginia.
A great deal of Mr. Mays' professional career had been spent in creating and improving community services for those with addiction issues, both at home in Logan and Mingo Counties, and on a Statewide level. United Summit Center is proud to be able to honor Mr. Mays through the naming of the facility in honor and recognition of his works that have benefited the State's addicted population.
The building that houses the Center has been fully renovated for residential purposes through a partnership between the State of West Virginia, United Hospital Center and United Summit Center. Support for the project at the State level was made possible through the Governor's Regional Substance Abuse Task Force process, and through the release of funds as ordered by Kanawha County Circuit Judge Louis "Duke" Bloom in the Hartley case.
The Center is intended to provide transitional placement and treatment for those in the early stages of recovery from addictive disorders. The new facility accepts residents experiencing all manners of alcohol and drug dependency issues, with drugs of abuse to include more traditional substances such as alcohol and prescription drugs, as well as newer drugs such as bath salts and other synthetic drugs.
The new facility does not provide detoxification services on-site, though United Summit Center is able to currently provide detoxification through the John D. Good Recovery Center in Terra Alta, and through 16 new beds capable of alcohol and drug detoxification at the Psychiatric Care Unit, recently opened on the United Hospital Center campus in Bridgeport. Patients that first require detoxification are transferred to the new facility once detoxification has been completed.
Residents at the Bob Mays Recovery Center typically experience lengths of stay ranging from 10-21 days. Primary treatment efforts include a topical focus on creating new, drug-free lifestyle habits, creating a solid relapse prevention plan and on the creation of a viable and lasting support system on which the patient may depend upon discharge.
Services provided include intensive and supportive therapies in both group and individual settings. Residents requiring additional support beyond the typical length of stay at the new facility may be referred to the Recovery Community program at United Summit Center's John D. Good Recovery Center for stays ranging up to six months in length.
Referrals for services at the Bob Mays Recovery Center may be made directly to the Center at 304-623-2178. Each referral is pre-screened via telephone, with a more in-depth evaluation conducted through a written referral to ensure placement in the appropriate, initial level of care.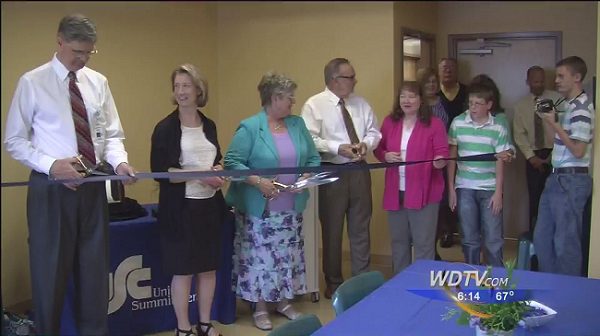 Photo of ribbon cutting courtesy of WDTV.