The Heat is On: Bridgeport Cast Iron Competitors Ready to Take Stations
By Julie Perine on February 02, 2013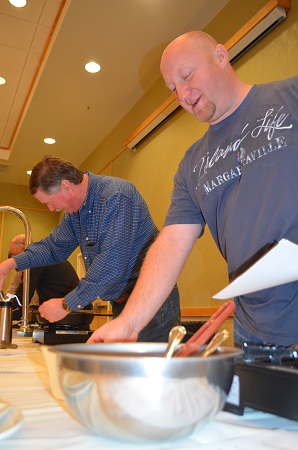 Editor's Note: Watch today's Cast Iron competitive action at this live video stream:
Members of Bridgeport Conference Center's Cast Iron Cook Off team planned their strategy Wednesday evening, paired off and took their cooking stations for a practice run.

"I think it went really well," said Bridgeport Conference Center Chef Joe Vessecchia, who is leading the team in the head professional chef position. "We had to make some minor adjustments to some work stations and the menu, but it went well. I think we have a very good team and have a very good shot of winning."

Today, the team will compete at the annual Cast Iron Cook Off, an 8th annual event sponsored by the Collaborative for the 21st Century Appalachia. Consisting of three different levels of competition, this year's event will be held at The Greenbrier Resort.

Joining Chefs Joe Vessecchia and Tim Goots (sous chef) are culinary amateurs Drew Pomeroy, Jerry Pomeroy, Craig Behr, Rick Johnson, Bob Workman, Pete Battles and Dave High. A 10th team member, a West Virginia high school ProStart student, joined forces with them at The Greenbrier.

The local all-male team is preparing a menu of smoked ham, beef tartare, cheddar and ramps grits, rabbit wrapped in smokehouse bacon and Greenbrier peaches with Chambord whipped cream. There is an emphasis on locally-raised foods and one element of each course must be prepared with a cast iron vessel.

The team is competing in the Throwdown division, facing off against seasoned teams, the WVU Small Farm Center and Mountwest Community & Technical College.

After ample set-up and prep time, teams start cooking in 30-minute intervals – the Bridgeport Conference Center team in the last time slot, 10:45 a.m. By 1 p.m., the meal must be complete, plated and ready for judging. They start with pre-measured, labeled ingredients. Each two-man team has a pre-designated station and one course of the meal for which they are responsible. Timing is key.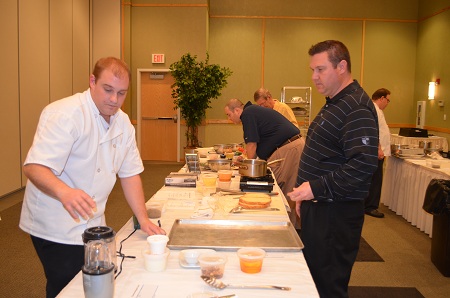 "We do things first which will only get better as they set," Vessecchia said, "and save others for the very last minute."

A panel of six judges will award a point value for the overall dining experience. In addition to the team receiving the highest combined judges' scores, a team will receive a people's choice recognition.

Workman, who is among the team's rookie competitors, said the heat is on because his wife Debbie is a seasoned cook-off competitor, who has helped Provence Market bring home first-place finishes for several years.

But he's up for the challenge, as are his fellow Bridgeport Conference Center team members.

Last year, Chef Anne Hart and her Provence Market team defeated Greenbrier and Greenbrier Sporting Club teams in the Throw Down competition. This year, Hart and her 2012 competitors – Chef Bryan Skelding of The Greenbrier and Chef Hannah Reid of Greenbrier Sporting Club – will comprise a "super chef," Intrastate team for West Virginia.
The chef trio has been brainstorming about menu development and working on logistics since September, Hart said.

"We've been sending pictures back and forth and making comments and suggestions," she said.

Hart is very pleased with the creative menu which has been decided upon.

"We're doing an Appalachian dish that's never been done in this competition in eight years," she said.

Though she is an eight-year veteran of the cook off, this year is a brand new experience.

"It's a whole different animal working with people to develop a menu based on all of our strengths and styles and to make it cohesive," she said.

Hart's style – upscale casual country based on southern France cuisine – varies from those of The Greenbrier, which is more traditional in nature, she said.

The team starts cooking today at 1 p.m.

"We'll be competing against teams from Ashville, N.C. and Abbington, Va.," Hart said.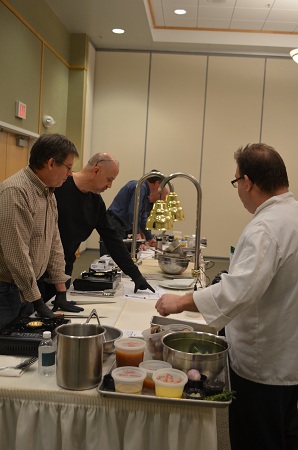 The event's preliminary level of competition will involve teams from throughout West Virginia, as well as others in the Appalachian region.
The overall event supports the use and purchase of local foods, promotes networking and tourism, said Debbie Workman, Collaborative for the 21st Century Appalachia board member

In all, upwards of 15 teams and will participate in the Cast Iron Cook-Off events with hundreds of people involved, Workman said.
Bridgeport Conference Center's full menu, which revolves around a West Virginia theme and incorporates different regions in the state and locally grown foods from those regions – is as follows:

Jeff's Butter Grilled Semolina, Gardner Farm's Smoked Ham, Green Glades Farmstead Cheese, Roma Tomato Puree

Shipley Farms Beef Tartare, Fennel Salad, Sea Salt Potato Crisp, Cracked Pepper and Lemon Aioli

Rainbowhead Farms Trout, Bloody Butcher Cheddar and Ramps Grits, Charred Tomato Broth, Spinach and Olive Oil Foam

Garnder Farm's Loin of Rabbit, Smokehouse Bacon and Local Shiitake, Local Winter Greens and Fingerling Potato Cabernet Jus
Greenbrier Peaches, Shipley Farms Honey, Organic Granola, Chambord Whipped Cream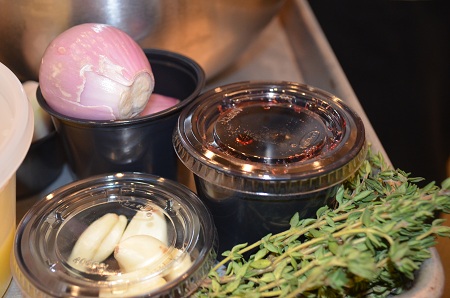 Pictured from top:
Pete Battles and Rick Johnson;
Chef Joe Vessecchia and Drew Pomeroy;
Jerry Pomeroy, Craig Behr and Chef Tim Goots;
Dave High, Bob Workman and Chef Tim Goots;
and some of the ingredients to be used by the Bridgeport Conference Center's Cast Iron Cook Off "Throwdown" team
To view a gallery of the team in action at The Greenbrier, click
HERE
.