WVU Coach Dana Holgorsen Signing Day Press Conference Transcript
By Connect-Bridgeport Staff on February 06, 2013
Opening Statement
First, I would like to tell everyone that I appreciate recruiting coordinator Ryan Dorchester for the job he has done in getting this class together. I would like to commend the staff on the job that they have done in getting this staff together. If you look at the dynamics of it, we have 25 guys in the fold – seven of which are already on campus, so we have already been coaching them. We are treating them just like we are treating everyone else. Those guys are doing a good job.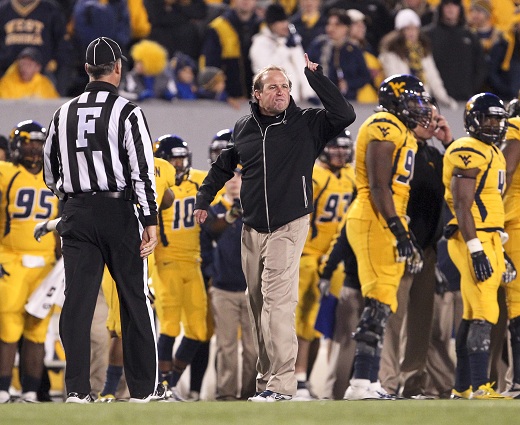 The thing about this class that stands out to me is that we went to 15 different states to get these guys. If you look at what happened last year, it was the surrounding states and down south. One of the things we wanted to focus on this year was getting more kids out of the surrounding states. We got four kids out of Pennsylvania, three from New Jersey, three from Ohio, three from Georgia, two from Florida and one each from the states remaining. That is a lot of travel time. It is not easy to get anywhere. These coaches have been doing a good job. We would get back from recruiting weekends, and then hit the road. When you get a kid like D'Vante Henry, who is from Oklahoma and played in Arizona, that is a lot of traveling to do. It takes a lot of time and money to get those kids. We appreciate the support we have from our administration and our boosters, because it takes a lot of money to get to these places. We are excited about all of that.
Specifically, we put a strong emphasis on guys that could rush the passer. Everybody said that our woes defensively were pass defense related, so we should get as many cornerbacks as we could. That is a very uneducated statement. You better find defensive lineman that can rush the passer. We lost Terence Garvin and Josh Francis to graduation, and we were not very deep at those positions. That position was a need. When you have guys like Brandon Golson, Henry and Dontrill Hyman, these guys are pass rushers. They are long and able to get to the quarterback. Marvin Gross can rush the passer, as can outside linebacker type guys like Jeremy Tyler, Isaac McDonald from down in south Florida. These are safety type bodies that are going to be tremendous from a nickel standpoint. We handled our needs. I don't want to leave out Al-Rasheed Benton, who physically, is as dynamic as we have seen. If you put him with our whole team right now, you wouldn't be able to tell that he is a new kid.

From a special teams standpoint, coach Joe DeForest did a great job of identifying Nick O'Toole. His upside is unbelievable. He is a large kid that has game experience. We are in a good position because that gives us a scholarship punter, a scholarship kicker in Josh Lambert and a long snapper in John DePalma that we are very comfortable with. We feel good about them because they are young and able to help us for years to come.
Offensively, we had depth problems at running back last year. Being able to add Dreamius Smith, Wendell Smallwood and Elijah Wellman will give us a tremendous amount of depth. When you throw in (Andrew) Buie and (Dustin) Garrison, we have some bodies.
From an offensive line standpoint, we are excited to get these guys in here – Marcell Lazard, Tyler Tezeno, Stone Underwood and Grant Lingafelter. If you aren't adding four or five guys per year on the offensive line, it is going to end up catching up to you. I think that gives us 15 bodies on the offensive line. You can never have enough of those guys. I like where we are from a depth standpoint. We just have to establish some starters there.
Probably our biggest need on offense was to add playmakers. When you lose Tavon Austin, Stedman Bailey and J.D. Woods, you better go out and add some guys that have that ability. We have three junior college players coming in. Kevin White is already on campus, and he is a grown man. Daikiel Shorts is a grown man that is adjusting to college quickly. The new guys are all 5-foot-8 to 5-foot-10 guys that have that quick twitch ability. Mario Alford is a guy that can just flat-out run. Ronald Carswell can run away from people. The last guy that we ended up adding was Shelton Gibson. When you watch him on tape, he is extremely, extremely talented. He is also hard to tackle. These are guys that we are going to get the ball to in space. Whether the guys that are here now can hold down a spot will be fun to watch in camp. We will be anxious to add these guys.
On adding junior college players
It is something that we have talked about for quite a while. Identifying these guys is not easy. You have to spend a lot of time making phone calls and going to see them to see if they are your type of guys. One thing that I have seen change in college football is the amount of guys from junior college that are being recruited. In my years at Texas Tech, Houston and Oklahoma State, it wouldn't be strange to have a class without any junior college players. This year, a lot of schools are going after junior college guys. We were able to land nine of them. I don't think anyone would have been happy to add 25 of them, so you have to identify guys that you have needs for. At running back, we got Dreamius, who is an experienced guy. The oldest guy in our receiving core right now is Kevin White. We have a bunch of freshmen and sophomores that are going to be out there. Stone is a guy that is a nasty guy that has played a lot football in the last two years. Defensively, we needed pass rushers. These guys are grown men. They will be able to compete physically in the Big 12.
On if they added tackles in this class
From a game-ready standpoint, we lost our top four of five interior linemen. At the tackles, we basically have our tackles coming back. We felt better about the returning guys at tackle. We wanted to add game-ready guys. Stone and Tyler should be game ready. Tyler is a big, thick kid. I know he is a high school guy, but from a physical standpoint, he potentially could be ready. Marcell is an enormous person. Grant will grow into his body. Those are two potential tackles for the future.
On how they will evaluate guys during camp that are safeties, outside linebackers and inside linebackers
D'Vante Henry is 205 to 210 pounds right now. All those tall, long, lean body types are wild cards. You don't know how they are going to grow into their bodies. Whether they are high school guys or junior college guys, you don't know how they are going to keep maturing. You try to let nature takes its course. You never know what they are going to end at. Your goal eventually is to get your best players out there. You are looking at a lot of nickel and dime packages in the Big 12. Our base defense might not have a ton of those lighter guys out there. It just depends what they are facing. You are always going to face a lot of pass situations regardless of who you play in the Big 12. You need a bunch of guys that can rush the passer. You need guys that can bump down from linebacker to end, safety to linebacker and such.
On the role of the new assistants in recruiting
You always take in to consideration what guys bring to the table from a recruiting standpoint. All of these guys do a great job of coaching and recruiting. They identified what we needed to have happen – that is part of the reason why some of these guys are being hired. We know that Tony Gibson is a good recruiter that has tremendous ties across the country. Lonnie Galloway has already done some great things here at West Virginia. They will pay dividends down the road. Brian Mitchell is a guy that I have seen recruit. He was able to get in there and make a difference as well.
Recruiting for 2014 starts today. I know these guys have been on the phone with a bunch of prospects. People think we take a couple days off after signing day is over, but the recruiting thing is never over. We will start with that going into the night tonight.
On if there are going to be more additions
It depends on how things shake out. We are still actively pursuing a couple guys. We are still active. We still have a couple more spots available. We may identify a couple guys that we want to bring on board. We may want to bring a couple transfers on board. We will evaluate that as a staff and make the best decision possible.
I think we had three count toward last year's class. Our target was about 27 or 28. We have had a couple guys leave the program. Imarjaye Albury has transferred, and Troy Gloster has decided to graduate early. Those moves opened a couple spots. We aren't going to hit our 85. We are one more recruiting class away from being where we want to be. We don't have many seniors for next year. You don't want to fill up just to fill up.
On if junior college players will now be considered on annual basis more often
It is about getting the best guys. I don't think it will be as important next year. Recruiting is important. It is our lifeline to our program, however, player development is important, too. Guys need to buy into the program and get better on a daily basis. They need to do everything they can to get bigger, faster, stronger and smarter at the end of the day. That is more important than the recruiting. It is a year to year thing.
On how a staff tells if a player fits their needs
There is only so much time you can spend with them. You do your best. The biggest thing is getting guys that want to be here. You can't obsess over why a kid picks another place. When you get them, you have to get them better. You make sure the parents feel good about the relationship. This staff has done a great job of that. We have identified who wants to be here. Guys that signed today are guys that want to be here. We are going to coach the heck out of them. There is all kind of reasons guys don't go to specific schools.
On if the staff was trying to get into as many states as they did
Junior colleges have something to do with that. We don't actively recruit North Carolina and South Carolina, but we have gotten there in the past. Those guys surfaced because of the junior colleges that we were recruiting. We really wanted to get into Ohio, Pennsylvania, New Jersey, Maryland, Virginia, Georgia and Texas. Obviously, we are going to be in Florida a good bit. Our database will keep growing tremendously, and then we will begin to narrow it down. If it happens to get narrowed down to five states next year, then so be it. We are going to go wherever we need to go.
On if any guys made the staff nervous in the final days
Yes, all 25 of them (laughs). We felt pretty good about the seven that were enrolled here early (laughs). We worked those seven guys out yesterday. You never know with the other 18 guys. We talked to all of them yesterday and talked to them again today. We are glad it worked out the way it did.
On what it is like emotionally for a coach on signing day
It is a little bit of everything. It is still fun. Once it is official, it is good to put closure to it. The hardest 48 hours are the two days prior to signing day. There is nothing you can do. You think you have your numbers hit. We did a heck of a job. We identified the guys that wanted to be here. We put together a staff of 18 people that we thought would sign, and all 18 signed today. There is some relief and satisfaction to it.
On how the signees line up academically
There's always going to be guys that you have to keep an eye on. Ryan Dorchester can probably give you a better percentage. A lot of them are already qualified. It is not 100 percent, so there are a handful of guys that we will continue to monitor. We will get updates from their counselors. We will get updated SAT scores and specific updates on that.
Click
HERE
for an article on a Harrison County connection to two of the biggest signing day surprises.
Click
HERE
for the complete list of WVU recruits with biography information.