Floral Design with Cara: DIY Gourd-geous Floral Arrangements
By Cara Ewald on October 31, 2014 from Floral Design with Cara
Make your Halloween will come alive with these DIY ideas. Don't forget to purchase the flowers from your local trusted florist.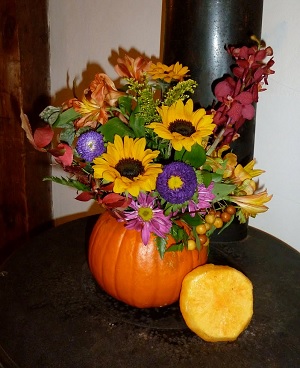 Boo-tiful Pumpkins
What you need:
Pumpkin - Medium-sized
Vase - that will fit inside the pumpkin
Black Matte Spray Paint
Paring Knife
Larger Knife
Large Spoon
Water
Scissors
Orange Gerbera Daisies - enough to fit in the vase
What to do:
Spray paint the pumpkin black. Use the paring knife to scrape away the surface using vertical lines of any thickness (to make a desirable design). Cut the top off of the pumpkin using the large knife. Throw the top of the pumpkin in your compost pile. Use the large spoon to scrape and hollow out the pumpkin. Fill vase with water about an inch from the top. Cut the daisies to desired and varying lengths. Arrange the cut flowers in your vase. Place the vase inside the pumpkin. The arrangement will be loose and playful. This arrangement will be a nice size for an average size dining room table or kitchen countertop.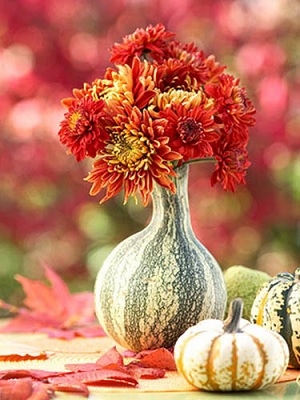 Gorgeous Gourds
What you need:
3 white gourds of varying sizes and heights - make sure they can stand on their own
Chrysanthemums (Red & Orange)
Dahlias (Burgundy & Black Red)
Garden Roses (Golden yellow)
Red Hypericum berry -or- Pepper berry
3 Vases - that will fit inside the gourds
Garden Shears
Water
Knife
Spoon
What to do:
Cut off the top of our gourds with a knife. Hollow out the gourds with a spoon. Add water to your clean vases. Cut flowers with garden shears to desired lengths at varying heights. Arrange in vases with one mum, one dahlia, one garden rose, and berries in each vase. Place vases inside hollowed out gourds. This cluster of arrangements will look beautiful on a countertop or a small kitchen table.