Meredith Legg Stapleton's "Say Yes to the Dress" Episode to Air Again; Info. on Gifts to Cancer Fund
By Julie Perine on April 24, 2013
Editor's Note: The story below originally ran April 18 to preview Bridgeport native Meredith Legg Stapleton's appearance on TLC's "Say Yes to the Dress."
She sends appreciation to everyone who watched the episode which, in part, featured her shopping for the gown in which she would marry her high school sweetheart, Christopher Stapleton.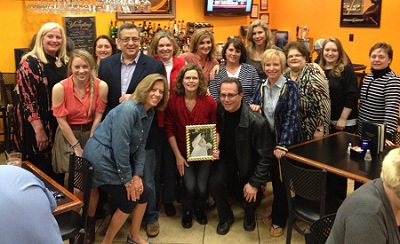 She also thanks those who gathered that night at Mountaineer Grille to watch the show together and raise funds for her medical expenses.

For those who missed the show, it will air again at 7 p.m. Friday, April 26.

If anyone would like to donate to her medical fund, gifts can be sent to:

Savannah River Banking Company
Re: Meredith Legg Cancer Fund
407 Silver Bluff Rd.
Aiken, SC 29803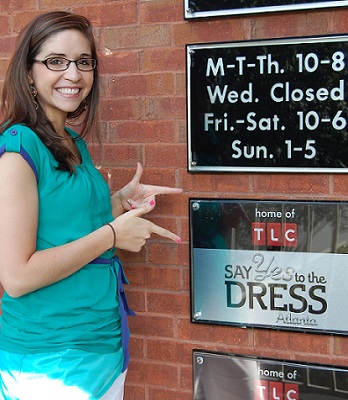 In May of 2012, Meredith Legg Stapleton walked into the Atlanta dress shop, Bridals by Lori, looking for her wedding gown ideal – a one-shoulder, form-fitting silhouette embossed with lace.

But when she slipped into a strapless, A-line by Amsale, accented with Swarovski crystals, she said yes to the dress.

The moment was captured on video and on Friday night, the country can watch. Legg, who grew up in Bridgeport and attended BHS her freshman and sophomore years, will be featured in an episode of the TLC reality show, "Say Yes to the Dress."

The opportunity came about when Legg's mom Robin ran into show star Monte Durham while grocery shopping in Alexandria, Va.

"She said she had to tell him her daughter's story and he agreed I had to be on the show," Meredith said. "He made a few calls and a producer emailed me and asked if I could come."

The story which Robin wanted to share was that Meredith was engaged to her high school sweetheart, Christopher Stapleton. The couple had broken up and gone their separate ways following their 2005 graduation from Aiken High School in Aiken, SC. It wasn't until March of 2012 when they got back together and they were engaged six weeks later. The other amazing thing was that for the past three years, Meredith had battled cancer, which began as ocular melanoma – a rare cancer of the eye – and metastasized to her liver. Still, she was basking in the fact that she was marrying her true love and loving every minute of planning the details for her big day.

The wedding wasn't happening until Oct. 20, but since she was invited to do the show – an opportunity which she jumped at, by the way – she would be choosing her wedding dress very quickly.
"We were engaged May 13 and they filmed the show May 24 – the last episode of the season," she said.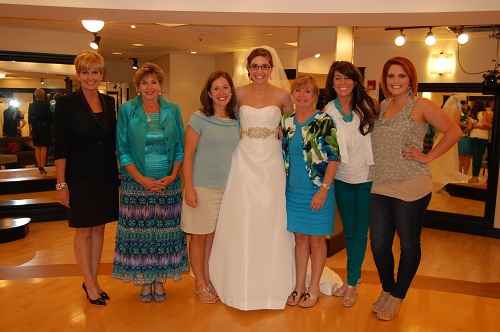 So with her wedding party entourage – her mom Robin, sister Lyndsi Herring, future mother-in-law Mary Stapleton and pair of bridesmaids Paige Stiles and Reagan Prozzi – Meredith sauntered into Bridals by Lori with one major mission in mind.

Well, make that two.

"Everybody knows that I'm a budget-oriented person so I said I didn't want the dress to cost over $2,000," Legg said. "They asked if I would be offended if they showed me the sale rack in the discounted room and I said absolutely not."

She was initially drawn to the Amsale because it just looked like something her dad would love, Meredith said.

The fact that it had a $1500 price tag – reduced from the original $4500 – was the topper on the cake.

"I tried it on and they asked me to look in the mirror and rate the dress from 1 to 10," Meredith said. "I said a nine, but when I put on the veil and the jewelry, it was definitely a 10."

Her family and friends indicated that they agreed whole-heartedly.

"They all cried basically the whole time. I didn't cry at all, but I was really happy," Meredith said. "They were all very emotional. I knew it was the right dress."

It was a memorable moment in a variety of ways.
"Lori, the owner of the dress shop, had just found out that week that she had breast cancer," Meredith said. "She shared that with me and told me she really understood how excited I must feel."
It was a snapshot of time which she was glad to have captured on video to share with all of her family and friends. It was also something she could carry with her in the coming months and weeks– especially that very day.

"I was leaving that night from Atlanta, taking a flight to Florida for a treatment," she said. "It was something fun to do before going through that. I took along different pictures and was able to plan a wedding while getting treated."

So on Oct. 20, Meredith and Christopher were married at St. John's United Methodist Church in Aiken, SC before 300 of their closest family members and friends. For the first time, her dad Basil saw his daughter's wedding gown and agreed it was perfect.

As far as Meredith is concerned, life is pretty perfect – despite the fact that she continues to receive cancer treatments.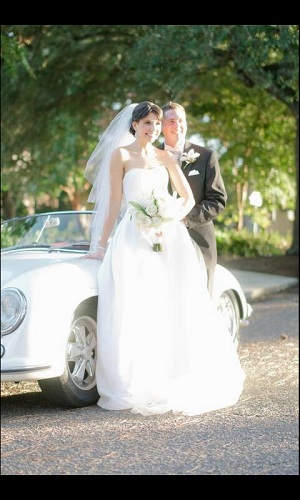 "Christopher and I have always had this connection that we never had with anyone else. It's just a love that goes through thick and thin – and it's strong," she said. "He treats me normal. We deal with our situation. We go to work, we're married and we're happy."

A finance major and hall of fame member of the University of South Carolina at Aiken, Meredith works as a project analyst for HNTB Corp. in Charlotte. Christopher is vice president of Carolina Energy Green Solutions in Greensboro.

Geographically, the couple has found a happy medium and are renting a home – at least for the time being, Meredith said. She, Christopher and their much-loved lab and rescue dog "Chiller" – are moving into their new digs in just days.

But first, there are a couple of items of business to take care of. Friday, she flies to Moffitt Cancer Center in Tampa to receive a treatment.

"Then I fly right back because my sister is having a party to watch the 'Say Yes to the Dress' episode," she said.

There's a party in Bridgeport, too.

The location is Mountaineer Grille on Barnetts Run Road and the hostesses are Carla Yaquinta and Patty Merinar, former coworkers of Robin Legg.

"Meredith is such a Mountaineer fan that we thought the location was perfect," Yaquinta said.

Beginning at 9 p.m., TLC will be tuned in to all five TV screens. Friends and supporters are invited to come watch, purchase their own food and drinks and consider a donation to Meredith's medical expense fund. There will also be opportunity to send well wishes and congratulations to the happy couple.

"Meredith is a very strong person. She's always positive and smiling and just the most encouraging person," Yaquinta said. "If anyone needs their faith renewed, they could definitely do it through her."

Meredith was initially diagnosed with ocular melanoma on April 13, 2009. Following surgery, she received week-long radiation therapy to her eye, but did not lose it. That treatment was received in Philadelphia and she returned back home to Aiken and was in remission for an entire year. In May of 2010, she had a PET scan which indicated that the tumor had spread to her liver.

"From there, it was back up to Philadelphia for a biopsy and direct liver treatment; radioactive spheres which is a radiation-type ball that goes up through an artery in the leg and directly treats the liver," Meredith said.

She received that treatment every four weeks for three months. In February of 2011, more tumor growth and lesions were detected and she received immunoembolization – the same basic process but using her immune system to fight the cancer. Again, she received treatments every four weeks through August, 2011.

"Then in September, it started growing again and we changed things up. The first week, we did chemo immunoembolization in which they used chemo balls. I had doses in September, October and November, all in Philadelphia."

This past February, scans were repeated and it was determined that more treatments were necessary.

"They switched it up to a systematic treatment – full body instead of directed therapy," Meredith said.

Although cancer has shown itself in Meredith's life, it does not define her, she said.

"It's not who I am; it's just a piece of me," she said. "I'm very faith driven and having faith is everything. Getting through trials like this is just part of my purpose; my path."

The love and support shown to her by her family and friends – both those in the Carolinas and those in Bridgeport – have been a constant comfort and reminder of God's love and protection, she said.

She is excited for her friends back home to tune in to see her "Say Yes to the Dress" episode.

"I made so many friendships in Bridgeport that got cut short because I had to move," she said. "But I grew up there and I love the town of Bridgeport. It gave me so much and I still talk to everybody there. My roots are definitely in Bridgeport."