The Locavore Next Door: Eating in Airports Series Part 2- Ali Baba Restaurant
By Carrie Robinson on October 27, 2012 from The Locavore Next Door
Okay, so I didn't actually plan for my last two restaurant reviews to be of eateries you can find at our local airports. I mean, how many airports do we really have within a short driving distance of our fair town anyways? Two? And how many restaurants total can those two airports have? Oh yeah, two! But nevertheless, my husband and I found ourselves (well, I did at least) craving some good Mediterranean food, and Ali Baba's was recommended.
Ali Baba's is located on the second floor of the Morgantown Municipal Airport with a stellar view of the runway. We did see two different planes take off as we settled in for lunch, so that was a real treat for our baby daughter. The lunch crowd at Ali Baba's was mostly travelers waiting on their flights to be announced, peppered with local lunch regulars. The décor was beautiful. I actually pointed out a few of the colorful lighting fixtures over the tables and told my husband that I would love to have something like those in our home someday. Sadly, I didn't think to take a photo of them. But we were there for the food after all. And I know that is what you all really want to know about, right?
We started our meal with the Samboosa appetizer. My husband is a little new to Mediterranean cuisine, but I knew he would love these little crispy triangles filled with a slightly spicy meat and onion mixture. They came with a cooling cucumber and yogurt dipping sauce, and were a huge hit with us both.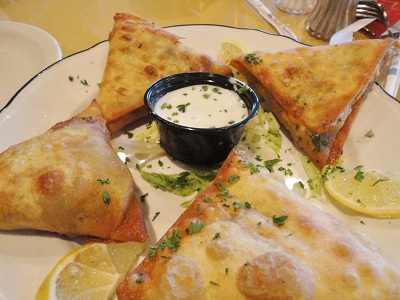 I couldn't sell my husband 100% on going for a gyro or a little lamb curry, but luckily Ali Baba's offers a few more American entrees for the Greek skittish. Yes, he ordered a cheeseburger, but not just any cheeseburger. A Black & Bleu Burger. With their onion rings. And he loved both. This place is perfect for the couple in which one loves Mediterranean and the other would like to stick a little more to what they know. Ali Baba's has a full selection of burgers, subs, wraps, and salads with no Greek influence whatsoever. (To be honest, this is how I sold my husband on my lunch choice. I told him they have burgers too.)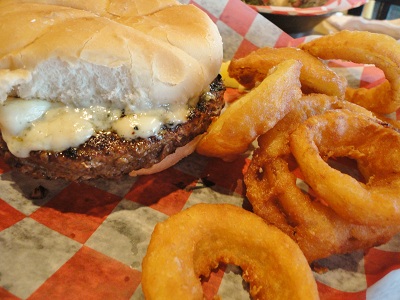 I, for one, love Greek and Mediterranean food and it had been a while since I have had some good falafel. Falafel are little patties of ground chickpeas, onions, spices, and garlic that are deep fried until golden brown. I ordered the falafel wrap with a side of their french fries. The falafel were wrapped in a white flour tortilla with lettuce and tomato and a good dollop of hummus and yogurt sauce. I think I would have preferred this served in a warm pita versus the tortilla, but it was very tasty. The fries were nice and crispy, and they must have been pretty good since my husband kept snagging them off of my plate.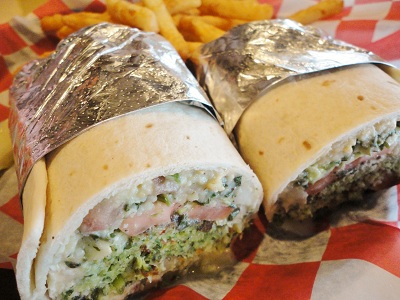 Now one Greek staple my husband cannot turn down is a good piece of baklava, so we had to have some dessert while we were there. He went with a nice traditional baklava- crispy phyllo layered with a cinnamon and walnut filling. I went a little bolder and ordered their White Chocolate Baklava with their Homemade Raspberry Sauce. And can I say, wow? If you happen to find yourself near the Morgantown Airport (or perhaps there hopping a flight in or out), you may have to stop at Ali Baba's JUST to try this dessert. Think traditional baklava, but swap the cinnamon and walnuts for gooey white chocolate and macadamia nuts. The homemade raspberry sauce is tart, but works perfectly with the sticky sweetness of the white chocolate. I failed you all and somehow managed to delete the photo I had of this dessert before I had uploaded it. For that, I apologize. But that gives you all the more reason to head on up to Morgantown and grab some lunch or dinner at Ali Baba Restaurant, and go see what that amazing dessert looks (and tastes!) like for yourself.
Click
HERE
to visit their Web site.