From the Bench: NFL Draft Expert Gives WVU's Bailey 2nd Round Grade, A+ Grade as "Pure Football Player"
By Jeff Toquinto on April 07, 2013
Corey Chavous knows a thing or two about good receivers in the National Football League. He knows it from more than being the top dog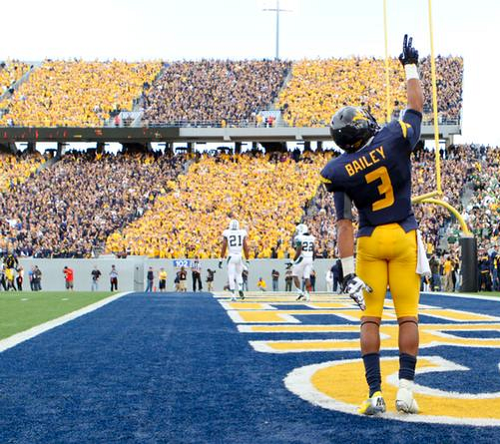 and founder of Draftnasty.com and an evaluator of NFL drafts since 1997.
Chavous, you see, also knows it from being on the field. Today he covers the NFL. In years past, he covered wide receivers in the NFL and was good enough to be an NFL All-Pro Safety. Because of that, when Chavous starts talking about the ability of former West Virginia University wide receiver Stedman Bailey, it's wise to take a listen.
"This guy is a pure football player – period," Chavous said emphatically.
Chavous took in the WVU-Texas Oct. 6 game in Austin from the sidelines. And it wasn't the three touchdown catches in the Mountaineers' 48-45 win that made him a believer.
"This guy scores a touchdown and then you look out and he's on the kickoff team. Even more impressive is that he makes three or four tackles during the game to go along with those touchdowns," Chavous said. "You want to know about Stedman Bailey? Watch what he did in this game. To me, what he did defines what Stedman Bailey is all about."
Count Chavous as one of Bailey's top supporters. On the Draftnasty.com Big Board, he has Bailey with a second round grade. And he thinks someone is going to get a steal if he goes later than that.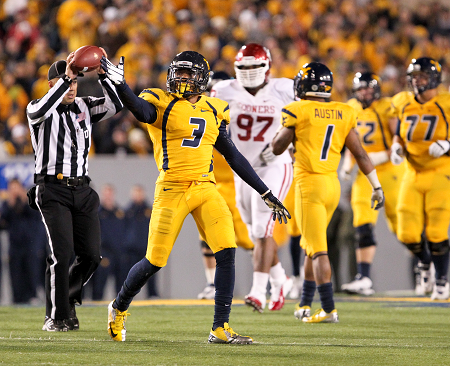 "I wouldn't put too much stock in his size of 5'10 because he plays bigger than his size. The guy has got really big hands and 33 inch arms. Those are tackle type length arms and that's what made Bailey so effective in the red zone," Chavous said.
There are other intangible that Chavous said he, other draft analysts and even NFL scouts are very much aware of when it comes to Bailey. One of those intangibles is that there is absolutely no quit in Bailey.
"You saw in that (Pinstripe) Bowl game when everyone else checked out, he didn't. He scored twice and played hard from start to finish," said Chavous. "He played hard and had huge numbers and never complained if he wasn't in the limelight. People tend to remember that monster game Tavon Austin had against Oklahoma, but Bailey had a game for the ages against Baylor (13 catches, 303 yards and five touchdowns)."
While Chavous believes Austin is still a first round pick, he points out that Bailey finished with 114 receptions for 1,622 yards and 25 touchdowns. That's not too shabby.
"Those numbers are better than Austin's, but Austin is multi-dimensional," said Chavous.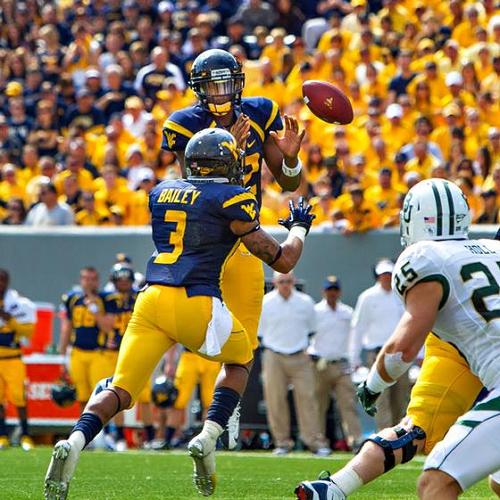 Bailey was already known as a commodity even before his junior year. Chavous said against superior competition, Bailey had superior results.
"He played more than just well against (LSU's) Morris Claiborne (now with the Dallas Cowboys). You could see there that he plays fast, carries his pads well and just has tremendous body control along the sidelines," said Chavous. "To be honest, I think he's extremely underrated with what he's able to do after the catch. People are seeing it if they're watching the film and they're seeing it against quality teams like LSU. You certainly can't evaluate what Bailey or anyone else does against a team like Kansas."
So where does Bailey end up?
"A lot of people have him with a second round grade like we do, but that doesn't mean a thing … you have to talk teams and needs and that may not happen in the second round," Chavous said. "That's kind of how the draft works, especially after you see what some consider can't miss players going early. You can see guys with second round grades go in the fourth round because it comes down to the team and fitting a specific system."
Chavous said Bailey could play inside at the slot, but he thinks the Z position which "would give him more room to operate," might be the best. He also said he has the ability to be an X receiver in the mold of Steve Smith. Eventually, Chavous believes it will be on the outside where Bailey will find his comfort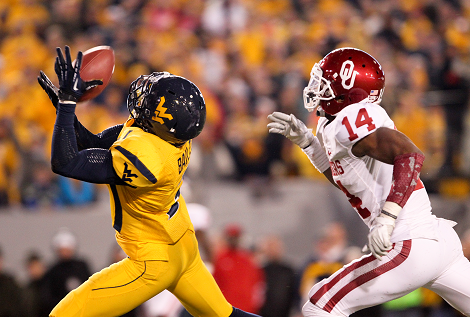 zone.
"At 5'10, he could be talent-wise in the mold of a Santonio Holmes," said Chavous. "This guy, though, we'll create his own mark because he has an edge. He posted these huge numbers and played a lot of games injured, which is another strong part about him. Plus, he's got these sneaky attributes that if you've watched him play, you can appreciate.
"When he went out on the field, he believed he was the best player out there," Chavous continued. "Then he went out and tried to prove it and often did. I'll say it again. Stedman Bailey is a football player."