Harrison County Connection Helpful as WVU Lands 2 Prized Georgia Football Recruits
By Jeff Toquinto on February 06, 2013
Two of the biggest gets for West Virginia University's football program during today's national letter of intent signing day came from one place in Georgia. Mario Alford and Brandon Golson, two prized recruits and teammates from Georgia Military College in Milledgeville, signed this morning to use up the remainder of their eligibility with the Mountaineers.
While the recruiting was done through new WVU assistant coach Tony Gibson, a lot of the recruiting was done through GMC defensive line coach Brian Hill. For those that don't know, Hill is a native of Clarksburg, a graduate of Liberty High School and played four years at Glenville State College. Hill said Gibson was extremely aggressive in getting both players to come to Morgantown – and that was after both had committed to playing for Gibson's former team, the Arizona Wildcats.
"Tony was down here quick. I really hate to use this phrase, but the guy's a recruiting guru. He just made them feel part of a family," said Hill, who also serves as the special teams coach and the strength and conditioning coach. "There was no real interest in them until Tony got back to Morgantown. I may have missed it, but I didn't see anyone from WVU on this campus until he got here. Let me assure you, WVU is getting two studs."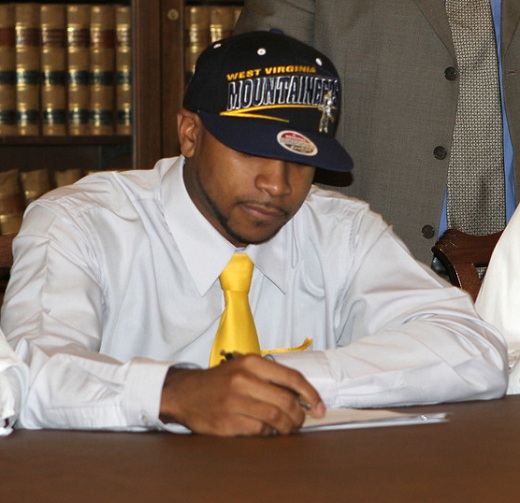 Alford is a 5'9, 175 pound athlete. Golson is a 6'3, 220-pound outside linebackers.
As for Alford, Hill said the player is special.
"I've been coaching for 20 years, and he's the fastest kid I've seen in those 20 years," said Hill, who actually coached Gibson as a student assistant under Rich Rodriguez at Glenville State in the early 1990s. "He's athletic and fast. He's a straight liner, who got a little bit of wiggle. He's got work on that, but when he does, he'll be extremely dangerous."
When asked who Alford reminded him of, Hill brought up another WVU great.
"When he sticks his foot in the ground, he reminds me of Steve Slaton. He's got that type of burst. If he breaks through the line of scrimmage I want to be the first person to shake the person's hand that can catch him," said Hill. "We actually would put him five yards and sometimes seven yards behind people in our drills and he would still outrun them."
During his high school days, Alford was a state champion in the 100 meters. He ran a time of 10.77 seconds. Hill said his speed and ability drew the attention of many schools, including Arizona, Texas Tech, Kansas, Ole Miss and others.
"Later in the process, Georgia began showing a lot of interest in Alford. He wanted to go to WVU," Hill said, who added that he could play slot just as well as see time in the backfield. "There were other schools that wanted him, but only as a defensive back and he wanted no part of that.
"The other thing about Mario is that he's a good kid," Hill continued. "You don't have to worry about him, and he's good in the classroom."
As for Golson, Hill had this to say about him: "He's a damn specimen"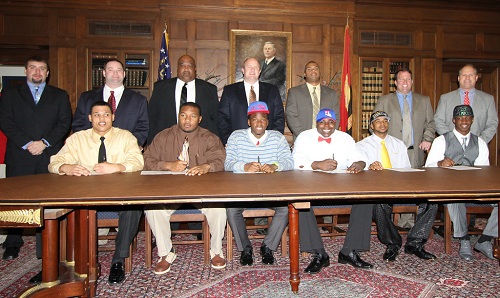 Hill said Golson is strong and fast. He listed his power clean at 300 pounds, a 400 pound bench, and a squat of 500 pounds.
"He's the type of player you're looking for. He'll knock the crap out of you because when he steps across the white lines, he's all business," Hill said. "As for his speed, he runs like a deer and was the only one even close to keeping up with Mario. He was so fast that we ran him with our backs in our drills."
Hill, who also coached with the late Bill Stewart at Virginia Military Institute, said Golson's current status is best suited for a 3-4 as an outside linebacker, rushing off the edge. He said, though, he'll be able to adjust to whatever scheme or position WVU opts to utilize.
"He's not an inside the box linebacker, but that's just for now. He'll mold into what's needed because he's one of the strongest, fastest and smartest kids out there. He did what he did this year and he was hampered most of the season with a neck injury," Hill said.
Golson, said Hill, had offers from Arizona, South Carolina and Ole Miss. He actually committed to Ole Miss in 2010 before grade issue forced him the junior college route and to GMC.
"I can promise you that I'd be surprised if you could find any two kids coming to WVU this year that are this good. I'll be shocked if those to aren't playing a lot this coming season," Hill said. "The other thing people need to know is that they're as mentally tough as they are physically tough. They're not afraid to work hard. Those two always led the way when we ran for an hour just about every day of the week in 100-degree plus weather on a Georgia afternoon."
"The bottom line is that these two can play," Hill continued. "They're going to love them in Morgantown."
Hill expects both to graduate with no issues and enroll at WVU this summer. They will then have three seasons to complete two at West Virginia.
Click
HERE
for the complete list of WVU recruits with biography information.
Editor's Note: Pictured above is Mario Alford signing this morning at GMC. Bottom photo shows several of the signees - not including Golson - during the signing activities. Alford is front row, second from right. Clarksburg native Brian Hill is shown standing, third from left. Photos courtesy of GMC Web Site.